June 9, 2015
Harrison, MI at the Lakeside Motel on Lake Budd
[Note to blog readers: the problem you are having posting comments seems to be associated with the Word Press update to their system. I checked their forum and many users have posted queries and requests for help about this issue. Some remedies were offered and I will follow-up to see if the suggestions help. In the meantime, if you want to send an email to my personal address, I can then post your comments on the next blog entry. I know that's really awkward, but I'm stuck for a better solution just yet. Thanks.]
Ah, Michigan. How I love thee! Another long day, about 340 mi., but now that I'm here in Harrison on tranquil Lake Budd, it was worth the effort. Once again, this was a random selection that worked out so nicely that it was hard to believe.
Outside the sliding glass door of my room is a picnic shelter and beyond it the lake with a dock and a small private beach. Right now I can see a gang of chipmunks running back and forth playing tag near the back patio and earlier I spotted a loon drifting along near the lake shore.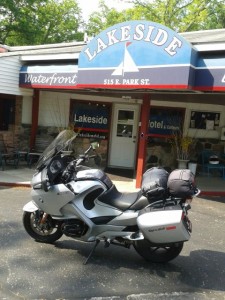 Starting out the day, I chugged along the Ohio Turnpike through a misty, dreary morning but as I began my turn north along route 23 the skies cleared and warm temps prevailed. Although it was more of same along a monotonous highway, once I began riding west from Bay City, the "True North" of Michigan began at Route 127 at Clare…rolling hills, pine trees, black squirrels and crisp, cool air.
Michigan has interesting German roots—I rode past the town of Frankenmuth, which bills itself as a slice of Bavaria in the state. There's also Zilwaukee—must be a story there.  My observation of some of men from these parts, limited as it may be, it seems to indicate that they are from a stocky stock of beer and sausage loving people.
Then there are the unusual names, of Native American derivation no doubt, such as Owosso and the Tittabawassee River.
Along the way, I passed through the Isabella Indian Reservation which abuts Route 10 west of Bay City. This reminded me of one of Hemingway's grim short stories, derived from his younger days in Michigan, about the suicide of an Indian family's father. (Sorry, don't remember the name of it. You'll have to Google it for me.)
The Lakeside Motel likes bikers…that's what Julie told me when I checked in. What a great welcoming message. Up the road was a well-stocked supermarket where I picked up some food for dinner and later I ate my meal lakeside as I watched fishermen trying their luck and at the same time admired the lakeside homes—some grand and some modest.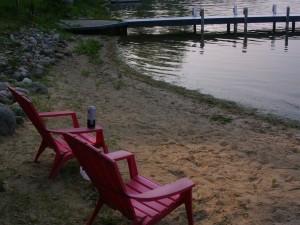 The Lakeside Motel's motto is "Making Memories for 50 Years" and I think they're doing good job of it—I certainly will leave with pleasant memories of a relaxing stay. For photos and info check out: www.lakesidemotel.com. I had a spacious and very clean lake view room with a Queen bed, free WiFi, a fridge, coffee maker and up-to-date TV for the bargain price of $66.91 including tax!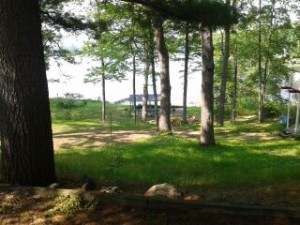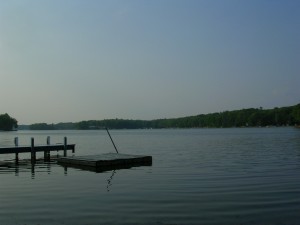 As an aside to those readers who are motorcyclists, as you know, the usual protocol among riders is to signal a fellow rider going in the opposite direction. I went past at least a dozen riders, only one of whom signaled back at me. This is very different from my experience in Northern Virginia and the south in general where the hand wave is common. Wonder what's different here? Maybe there are just too many motorcyclists to warrant signaling—certainly there are a lot of riders in this part of the U.S. Quite commonplace. Of course, maybe being on a BMW made me a leper to them. Who knows?
Tomorrow the Upper Peninsula awaits. Crossing the Mackinaw Bridge should be a special moment. Otherwise, no specific plans; I expect to wander and wonder at whatever comes my way.