Blog note: I didn't get my narratives up-to-date the other day and publish fresh posts as I had hoped (and stated in the brief update  below). Instead, I spent a good part of the evening having a deep conversation with my Aunt Anne that lasted past midnight. This was time better spent for me personally than working into the night to post the blog. I'm sure the reader will understand how important it is to invest in connecting with family especially someone as dear to me as Anne, whose resilience, sense of humor and compassion are inspiring.
Days 4-6, June 12-14, 015
Michigan, Wisconsin, Minnesota, North Dakota
June 12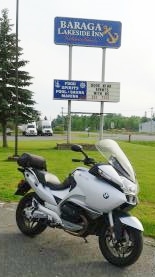 The fog on Lake Superior blotted out every feature of the shore and the landmarks across the bay. I waited it out with a superior sized breakfast at the Lakeside Inn in Baraga, Michigan, my first real breakfast since leaving home on Monday.
At the counter in the hotel I sat between two local guys and managed a conversation about fishing and the pros and cons of the Ojibway Casino on the hill above town. These fellows reminded me so much of Mainers…a bit taciturn with a touch of sly humor. They aren't going to let you in on too much about what they're thinking. A subtle quip or two gets rolled out but for the most part you struggle to get anything out of them.
During the sparkling breakfast conversation I demolished a big breakfast, for less than $10, and with the fog lifting, I made a quick stop at the post office and at last got on the road—after 10 a.m., very late for me.
Today's ride, while it had many positives like the charming country roads I sailed along as the day warmed up, it was countered with road closures, detours, lane shut downs, spots where pilot trucks had to escort lines of traffic in alternating directions, loose gravel and snail-like speed limits. Arrgh. I took me way too long to tick off the 308 miles that I eventually rolled up.
By the time I stumbled upon the Remer Motel I was at the end of my tether. I saw the dinky, down-at-the-heels motel and gave up trying to go any farther west to Walker, my planned destination. (Good thing I didn't persist in reaching Walker; I found out there was a fishing tournament there on Leech Lake and all the accommodations in Walker were booked up.)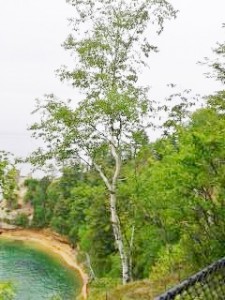 A series of impressions kept recurring as this ride has unfolded, mainly certain scents that have become evocative of the U.P. and its neighboring states: the smell of balsam that perfumes the air along some of the highways, then there is the odor of campfires–the sweet smokiness reminding me of the many backpacking trips Rosa and I have taken over the years, but there's also the sight of stately birches lining the edge of the forests along the roads. For some reason, I never tire of seeing those elegant trees. Taken together these sights and smells create calm and joyful feelings that's hard to describe.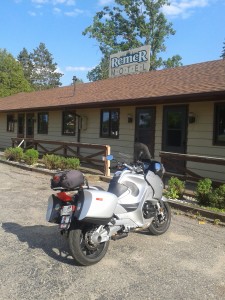 I was traveling west on Route 200 in Minnesota when I came through Remer, population 366; this was another happy accident. Remer, according to Wikipedia, had a Big Foot sighting a few years ago and claims to be the Big Foot Capital of the U.S. Notwithstanding the Wiki citation, and likely out of embarrassment of such a silly sobriquet, no local ever mentioned this nor did I see any promotion of the Big Foot craze whatsoever.
Fishing is the main interest, pastime, obsession, and activity around Remer. On the other hand, it is true that Al Capone stayed at the Thunderbird Lodge near Remer on his visits to Minnesota. I guess then things got too hot in Chicago, Remer was the place to be.  Remer is supposed to have the largest eagle statue in the world. (See photo below.) Somehow, I can't quite buy that.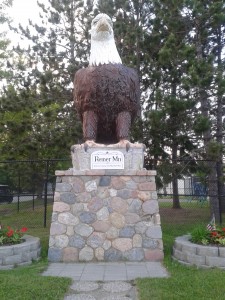 The Woodsman Restaurant is the only place in town so that's where I ate dinner (a Walleye fish sandwich) and then breakfast: the famous "Woody" special—two eggs, hash browns, toast and coffee. Again, a meal under $10.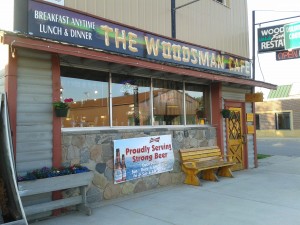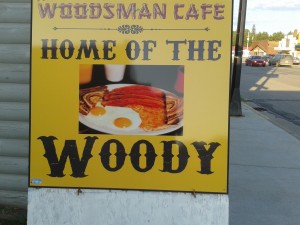 Remer has five churches so that works out to about 73 people per church. It also has an old depot still standing on a branch of the defunct "Soo" line. For more about the Soo, see the Wikipedia entry: https://en.wikipedia.org/wiki/Soo_Line_Railroad.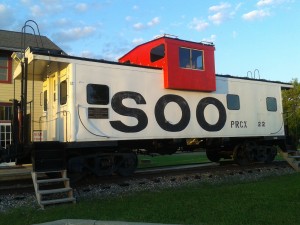 Who would have guessed that this tiny town had so many interesting facets?
But I'm digressing about where I ended up and need to get back to how I got there. First, Wisconsin. Let me say one word about northern Wisconsin—meh! Let me say two words about northern Wisconsin, especially Superior (which is most certainly is not): Under Whelming.
Crossing from Michigan, there isn't even a sign or welcome center to greet one's arrival into the state. I kind of figured it was Wisconsin after passing a tired dairy farm. That was the only hint. Poor old Route 2 here was crisscrossed for miles with ribbons of tar snakes—one of motorcyclists' most hated road conditions, along with rain, headwinds, and gravel.
Gone were the pristine roadside rest stops I came to appreciate throughout Michigan's Upper Peninsula. Gone were the safe shoulders were an emergency pull off could be managed without fear of instant death. Instead there was some kind of sloped edge covered in what appeared to be cinders.
OK, enough of slamming pitiful northern Wisconsin, but I couldn't help feel that the official attitude was:  "There's nothing to see here, visitor. Keep moving and don't bother us."
I stopped long enough in Superior to get a photo of a hard drinking bar and eatery called Gronk's—their logo, a caveman, gives you an idea of the attitude and atmosphere. I poked my head into the dark confines of Gronk's and then withdrew quickly back into the daylight.
In fairness, the Trip Advisor reviews about the food and ambiance have been positive, so I don't want to slander what is possibly an otherwise terrific eatery that just appears less so.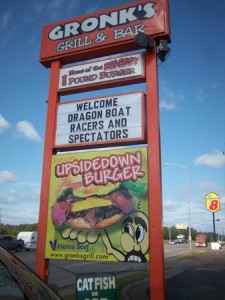 So, Superior Wisconsin is the ugly stepchild of Duluth and Duluth, though it indeed has a skyline of shorts is just a slicker version of a port city like Superior. Just the same, it does look much nicer.
And in the category of Happy Accident once more: I got lost after crossing the border from Superior to Duluth and ended up north of the city instead of aiming west along Route 2. I had to turn around to get back to the right exit and in doing so came down a long hill overlooking the city.
Here I was treated to a stunning view of the harbor and Lake Superior that I would have never seen if I had made the "correct" directional decision. There's some kind of wondrous cosmic karma hovering over me during this trip. I'm getting goose bumps thinking it.
Before leaving Wisconsin, I was able to get a nice clear shot of Lake Superior—the day was cloudless and brilliant–and another photo of the Bad River Indian casino sign where I stopped for a break to pop Advil and mail some more items from the Odanah post office which is officially on the Bad River Band of Lake Superior Chippewa Indian reservation.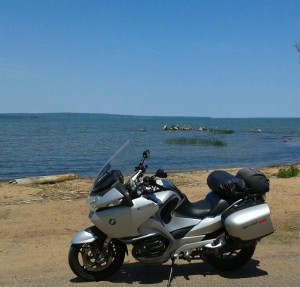 I took another rest stop in Floodwood, MN, "Catfish Capital of the U.S". and captured the picture below of the catfish sculpture. However, in the interest of brutal honesty: there are at least seven other states with towns boasting they're the Catfish Capital, along with one other town in Minnesota.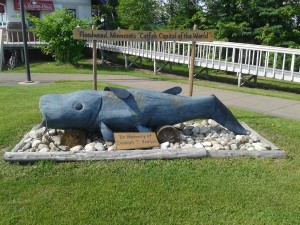 Day 6, June 13, 2015
In Brookings, SD
One of the dangers of blogging is getting too detailed about routes, scenes, observations and the like which seem interesting to the royal blogger but are, well, "Ho hum, yawn" to everyone else.
So, OK, here's a summary of the day: a big breakfast at the Woodsman Family Restaurant in Remer to hold me until suppertime. Followed Route 200 to Walker (there were scores of pickups and RV lined up next to Lake Leech for the fishing contest) and scoped out the motel that had no room for me. Humph! Not any better accommodations than my little nest in Remer. Glad they had no room for me. Remer was a tiny little burg but interesting in its own way. I'm grateful I found it. Along the way I just had to get a shot of the Giant Paul Bunyan in Akeley, MN. I'm a sucker for those tacky roadside attractions.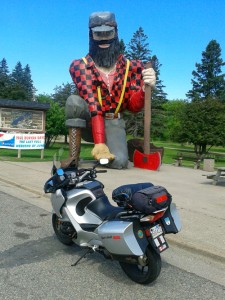 After several pleasant hours on Rte. 200, I connected with Route 10 and boogied into Moreland and then Fargo along a four-lane highway.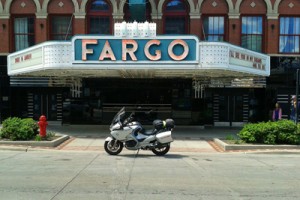 Fargo is an active place on a Saturday. The downtown area is crowded with cars and seems to be a lively scene for music and the arts on weekends. In my very brief drive-by, it appears there's a mixture of old, new, and re-purposed buildings and the general sense is that the authenticity and soul of the architecture has been preserved. If I'm right, I applaud the city for their resistance to the developers and MBA marketeers who homogenize everything they touch so one place looks the same as another anymore.
I briefly cruised a few areas on North Broadway and some side streets to get some photos (again, just happened to find the right spots for interesting pics) and returned to Route 10 West to pick up I-29 south.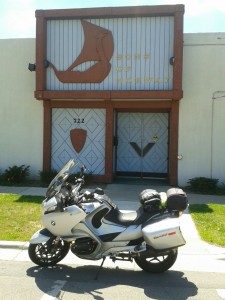 Route 10 leading out of town is a gritty strip of blue collar businesses, biker bars, tattoo parlors, payday loan operations, and a motorcycle dealers. And as a foreshadowing of what I was about to experience, as I made the turn on to the strip I was greeted by a doughy, chubby 20-something who was clutching a hand-lettered cardboard sign imploring  passersby with the message: "Please help me…any amount helps."
Not far along Route 10, I stopped at an Indian Motorcycle dealership for a photo and the next thing I knew, a posse of bikers swept into the driveway between the dealership and a biker bar and took a shortcut to get to around to the front of another biker bar, Specks, (Beer On/Off Premises).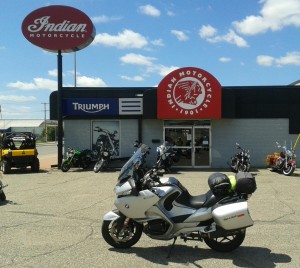 Well, seeing this colorful wild bunch demanded that I meet them. So, I parked the Beemer in back of the bar (I wouldn't dare try to park out front with all the choppers and Harleys). I walked to the front and found Travis and Rev standing there waiting for the rest of their club members to appear for a meeting.
For some reason, I become fearless when I'm on an adventure and just assume that God watches over fools and drunks. During the day, I'm pretty much the former and plunge right in as the affable innocent in these encounters. Keep in mind I'm dressed like the complete Beemer Nerd: white helmet, safety vest, mesh jacket, the usual "AGATT"—ALL GEAR ALL THE TIME—look. Pretty macho, eh?
I ask if it's OK to take a photo; they agree without resistance. I tell them about the blog, give Travis my Honey Badger biz card with the website on it. I added that we have a club, too, but aren't hard core like them. Travis replies: "Well, we really just try to look the part." That kind of refreshing honesty is in great demand and in short supply. Thanks, Travis, for a bright moment while I was cruising out of Fargo.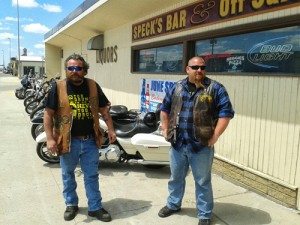 Next it was the long grueling interstate trek down I-29 through North Dakota, South Dakota (where I spent the night in Brookings) and then through Iowa to reach my destination on Monday—Bellevue, Nebraska to visit my Aunt Anne.