Hill City, SD
June 4, 2014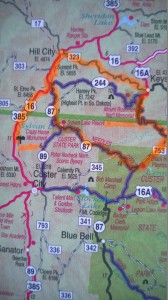 The giant faces of four presidents appeared in front of us, framed by the rectangular opening of the small tunnel we had just ridden through.  However, there was no place to safely pull over to capture a shot of this startling view of Mt. Rushmore from the heights of Iron Mountain Road. But not far from there, we found a genuine overlook with parking where we could snap a photo through the forest.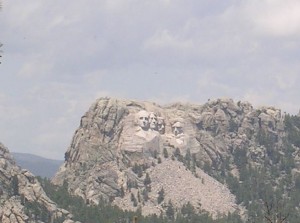 It seemed that we were getting close to our goal, having ridden about 30 miles in a loop starting from Hill City and going south on the Needles Highway* then aiming north east to hit the Iron Mountain Road to ride north to get to Mt. Rushmore. It seemed we were getting close but we really weren't. We had to navigate multiple switchbacks over and over while playing the game of up-the-mountain, down-the-mountain, and repeat.
(*Needles Highway gets its name from the unusual granite spires that rise up in profusion along the route.)
We didn't plan it this way, but both the Needles Highway and Iron Mountain Road took the award for the most gut churning curves on our entire trip. I can't even call them twisties—how about corkscrews, pigtails, double hairpins, and uphill flips? There were 25 mph curves, then 20, 15, 10 and a couple of 5 mphs. Narrow, single lane rock tunnels, seven of them,  with one only 8 ft. 4 in. wide, had to be entered without knowing what was on the other side. We were wrung out by the time we rode up the steep access road to Mt. Rushmore.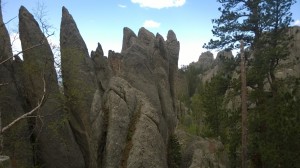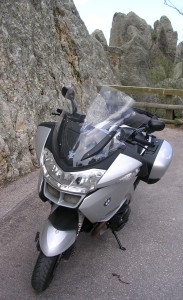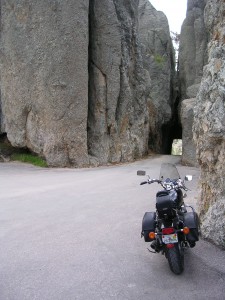 We chose not to ride all the way to the visitor center and opted for photos from the access road. Right after we got our pictures, the sky became overcast and we knew that severe thunder storms were expected later in the day. We wanted some lunch and also were eager to fit in a visit to the Crazy Horse Memorial some 17 miles away. We got the evidence we needed that our bikes had reached Mt. Rushmore with its images of Washington, Jefferson, Teddy Roosevelt and Abraham Lincoln carved into the mountain side.  Pictures taken, we almost flew into Keystone.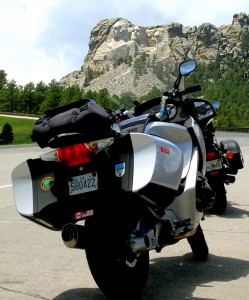 There we had a satisfying lunch at Peggy's Place that included especially delicious homemade strawberry rhubarb pie for dessert.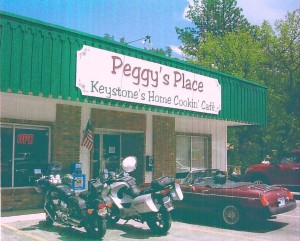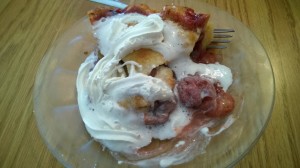 We next made our way slowly through Keystone.  This is another tourist spot and pedestrians seem to pop out of nowhere so we rode with great caution. At the edge of town, we turned on to Old Hill City Road. This was a delight after being scared witless by the mountain roads. We relished the 10 miles of manageable curves through meadows and pastures. As we followed the road, we crossed the same railroad tracks several times—this is a line that carries tourists on an old 1880s train from Hill City to Keystone. Coming around one curve while I was in the lead, I heard the unexpected blast of a train whistle and came to a very quick stop as the vintage steam engine chugged through the crossing. As we waited, the tourists on the train greeted us, especially the kids who smiled and waved enthusiastically at the two motorcyclists waiting at the crossing. We, of course, returned their waves with great fanfare.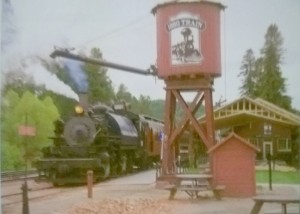 Once in Hill City we rode the seven miles north to the Crazy Horse Memorial. When completed, the Crazy Horse Memorial will be the largest art project in the world, 563 ft. high, taller than the 555 foot Washington Monument, and 641 ft. long with a 219 foot horse's head. In the making since 1948 and financed with only private donations, just the face of Crazy Horse has been finished. Tours can be taken to the work site but the visitor's center has an observation deck for viewing the work-in-progress in the distance as well as an outstanding Indian Museum of North America plus a restaurant and gift shop.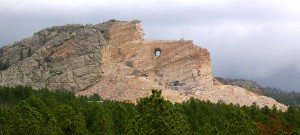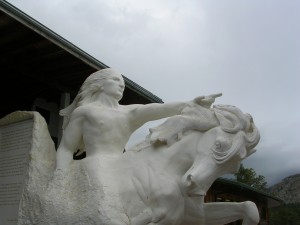 (A little about Crazy Horse: literally "His-Horse-Is-Crazy" was born sometime in 1840 and was killed September 5, 1877). He was a war leader of the Oglala Lakota. He took up arms against the U.S. Federal government to fight against encroachments on the territories and way of life of the Lakota people, including leading a war party to victory at the Battle of the Little Bighorn in June 1876. He refused to sign any treaties with the whites and never submitted to living on a reservation.)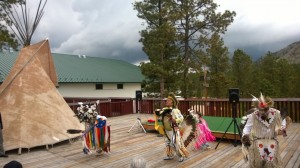 We watched an ethereal performance of Native American dancers, toured the museum with its intriguing and priceless artifacts and finally pulled ourselves away to return to the RV Park. Ominous black clouds drifted lower and lower as we raced down the hill hoping to outrun the rain that started spattering on us. We made it back, got the bikes in the trailer and ourselves in the Badger Den before the full force of the thunder storm hit us complete with pelting chunks of hail. It was our last day and the Moto Gods had smiled upon us. We ridden a mere 62 miles but it was packed with more thrilling riding than we could have imagined.
And now….Westward Ho Goes East.
Our Westward Ho motorcycle adventure is over; tomorrow the Badger Den will begins its 1,636 mile journey to Virginia.
Thanks to all our readers for your comments and your positive remarks about our blog. An Epilogue blog entry will be made after we return home that will summarize highlights of our trip, lessons learned, and favorite rides.
Ride safe,
Paco (Frank) and Rufus (John)