Epilogue
Acknowledgements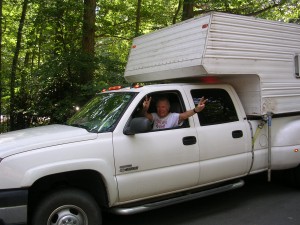 To "Paco": Where to begin in thanking the Outlaw Badger, Frank "Paco" Bartlett, for making this trip possible? He spent months in preparation: planning our route west, buying and testing out the camper (AKA, "The Badger Den"), putting new tires on the trailer, and undertaking countless other tasks during the winter and early spring. Most importantly, it was his diligence in tracking me down several years ago that led to our reuniting after losing touch with one another sometime in the mid-80s. If he hadn't worked so hard to find me, none of this would have been possible.
During the trip he was the ultimate road warrior clocking up to more than 600 miles some days, listening to my stories and dumb jokes with patience and humor as the hours and miles ticked by, making sure we had Coronas in the cooler for the evening arrival celebrations, and preparing really good coffee each morning. He endured my occasional snoring, which he described as "two hogs fighting over a bucket of slops." As unfair as that might be, it's a pretty funny image and I forgive him for his lack of respect for my snoring.
Paco's self-deprecating, earthy stories touched off many eye-watering laughing fits on my part and lessened the monotony of the long stretches of highway we had to travel. He encouraged my blogging, sometimes with relentless persistence when I didn't feel like writing, to ensure we had an up-to-date record of our trip. He did so even when my blogging prevented him from lying down for a rest.
He also convincingly praised my so-called cooking—an accomplished acting performance for the ages. He took countless and outstanding back-up pictures with his phone camera since mine was unreliable and researched facts and figures. The blog is better for his many contributions.
As Cicero said: "Friendship improves happiness and abates misery by the doubling of our joy and the dividing of our grief." For all of this, thank you, Paco!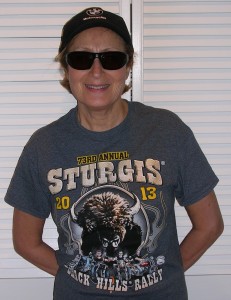 To Rosa: Rosa's consistent and enthusiastic support of this three-week odyssey and her positive response to the blog were immeasurably important to me. In fact, the blog was possible only because Rosa sent me a link to a website that walked me through the blog creation process. Without her help, the blog would not exist. And because I knew she genuinely wanted me to go on this bucket list lark, I was able do so with a light heart. She was left with care of our geriatric cat while she had to work each day, and sometimes travel, which necessitated having a cat sitter to feed Simon while she was away. So, my little excursion was not especially convenient for her, but she was always happy for me and was clearly pleased I was finally making a trip of a lifetime.
Thank you, Rosa, for all the love!
The Members of the Honey Badger Motorcycle Club: John, Ray and Steve—thanks for following us on the blog and for your continued camaraderie.
A Few Stats
• Left Reston, VA: May 17, 2014 at 8:50 a.m.; returned: June 7, 2014 at 5:30 p.m.
• Miles traveled in truck, round trip from Reston: 5,714
• Motorcycle mileage: 1,073
• States covered on the bikes: 9
• Longest round trip ride: 247 miles (Four Corners)
• Shortest round trip ride: 19 miles (Little Big Horn)
• Days away: 21
• Nights at Flying J Travel Plaza: 1
• Nights in RV parks: 15
• Nights in motels: 4
Things we were glad we had
• Pillows from home
• "Miner's" lights (great for getting around in the dark RV parks or reading)
• Empty 1.1 liter plastic bottles (for nighttime emergencies)
• Extra sunglasses (my regular pair popped a lens the first day on the road)
Things we brought but didn't need
• Tarp for shade canopy
• Extra face shield for helmet
• Multiple lanterns/lights
• Generator (we always found RV park with space and electrical hookups)
Things we should have had
• Portable electric heater (BD's propane heater didn't work)
• Antibiotic ointment (didn't check supply in first aid kit)
• Extra motorcycle gloves
• Polypropylene base layers
• More rubber bands
• More kitchen trash bags
• Sandwich bags & aluminum foil
• Back-up prescription script for a hard-to-fill medication
• Roll of quarters for RV park washers and dryers
Hits and Misses
Big Hits: Yellowstone NP, WY; Black Hills, SD
Big Duds: Deadwood, SD and Sturgis, SD
Best Value: National Parks and Monuments Senior Pass (it costs $10 for a lifetime and we estimated we saved more than $100 in entrance fees)
Biggest rip-off: The $10 fee to ride through a short stretch of Custer State Park in South Dakota. A blatant rip off of tourists who want to drive through  parts of the Needles Highway or Iron Mountain Road which lie within the park's boundary.
Worst Traffic Jam: Salt Lake City, the Friday before Memorial Day at rush hour in the rain with thoughtless drivers regularly cutting us off
Worst Interstate Roads: Illinois, Indiana, West Virginia
Worst looking Gateway: Wheeling, West Virginia
Worst drivers: On I-70 south in Pennsylvania and I-270 in Maryland
Most exciting motorcycle roads: Needles Highway and Iron Mt. Rd. in SD
Fun riding for scenery and roads: Lower Loop, Yellowstone NP, WY
Best pie: Strawberry-Rhubarb, Peggy's Place, Keystone, SD
Dumb Tourist Award: Girl who leaned out the window of a car to pet a bison
Answers to Your Burning Questions
About the Badger Den (BD):
• How big  is it? Approximately 6.5 ft. wide and 9 ft. long
• How many people does it sleep ? Two adults comfortably
• Did it leak during rain storms? No
• Is there a bathroom? No
• Is there running water? No. We used a jug to hold water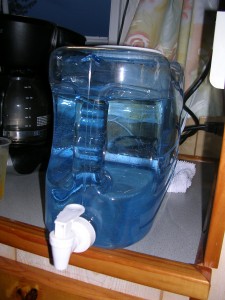 • What appliances are in it? A propane stove, a refrigerator, a microwave, and an air conditioner. The fridge, microwave and A/C operate when connected to a 30 amp electrical service. The stove operates off a propane tank connected from the outside of the BD.
Food and Drink:
• What do the Badgers eat?
Typical Badger food shown below.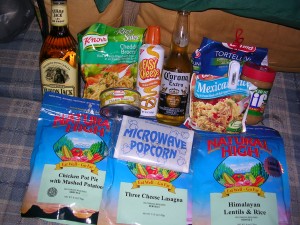 –Breakfast: English muffins and coffee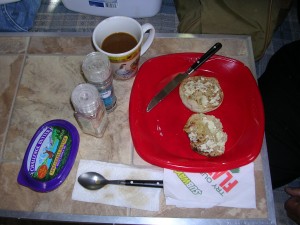 –Lunch: Usually granola bars; we ate lunch out only 3 times
–Dinner: One-pot meals; sometimes freeze-dried camping meals, other times pasta/rice packets prepared in hot water along with canned vegetables, canned chicken or fish added in; occasionally we got Subway subs or carryout for dinner; we ate out once at a Golden Corral in Amarillo, TX, which was a BIG mistake, and once at a Denny's, not so bad.
• What beer do the Badgers drink? Corona
• What's the Badgers' favorite hors d'oeuvre? "Easy Cheese" squirted on rice crackers
• What's the Badgers' favorite after dinner drink? Yukon Jack
What kind of computer set-up was used to write the blog?
A big goofy arrangement was required. See photo below.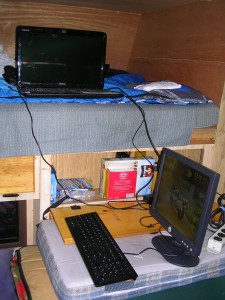 Just before the trip, the screen on my Dell laptop went haywire. After consulting several PC experts I was told there was no fix. Rather than rush to replace it and possibly lose documents and pictures already stored on it, I opted to bring an old monitor and borrowed a key board from my sister, Barbara. All the components had to be connected and plugged in and arranged in the small space available in the Badger Den, which happened to be where Paco slept. It was a crazy arrangement but it worked.
(Message to Dell: Thanks for making a piece of crap which became a hi-tech paperweight in less than five years. There won't be another Dell in my laptop future.)
Next Trip
We're working on a plan. More on that  in a future blog.