June 11, 2015
Baraga, MI on Lake Superior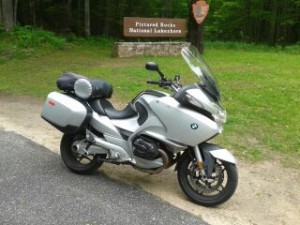 FUDGE–SMOKED FISH–PASTIES
Those were the message  on signs dotting Route 2 as I traveled west and then north from St. Ignace to reach Pictured Rocks National Lakeshore. The tacky roadside Yooper Tourist Traps have a goofy charm that can only make you smile. The pasties are the classic turnovers eaten by miners in Cornwall, England and imported to the U.S. by miners working the copper mines to the north of here (hence the town of Copper Harbor). It's clear it's a favorite fast food in the U.P.
About 10 miles out of town, the first set of sand dunes rose up to my left and then long gaps in the dunes offered sweeping vistas of Lake Michigan. Though the day began with bright sunshine, overcast conditions set in and as I rode north toward Pictured Rocks in Munising it became chilly. Unfortunately, not chilly enough to deter the swarms of baby black flies that formed clouds around anyone who stood still for a moment…this made gassing up a frantic activity to get fuel and get going, pronto. Later, at Munising Falls near the park, the Michigan Air Force, AKA, giant U.P. mosquitos, did their best to suck blood from me through my mesh jacket as I dodged and weaved to avoid them while get a few snapshots. From afar I no doubt looked like I was doing the Hokey Pokey.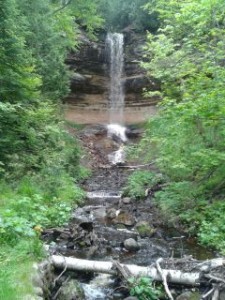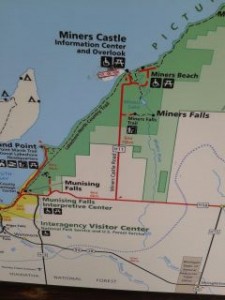 Pictured Rocks are best seen from a boat, but without enough time to do that, I made two of the obligatory stops at the Falls, Sand Point and Miners Castle Rock as well as my first glimpses of Lake Superior. The overcast skies made photography a sketchy enterprise and I don't carry (well, I don't have) any sophisticated equipment to help out. I still need to load a photo editing app on my little HP laptop, too, make adjustment. So, with these excuses provided I absolve myself from any criticism about the illustrations.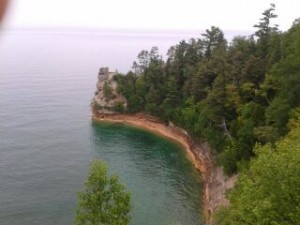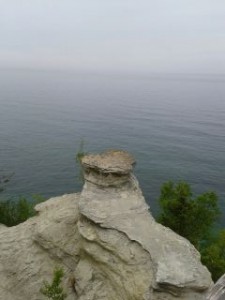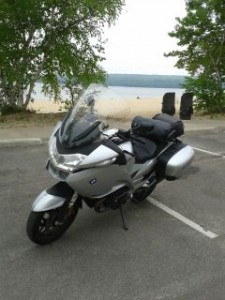 I left Munising after 2pm without a specific destination and without lunch.
On my westward trek, Lake Superior appeared to my right and visibility very limited for any photo ops, nonetheless it was a delightful company until it got cold…it was 50 degrees and breezy when I reached Marquette. Shivering, I stopped at the Welcome Center to warm up and get advice about accommodations somewhere. There's not much along the way, I was told and my best choice was to swing about 17 mi. north from my planned route and make it to Baraga (named after a 19th century missionary bishop).
Baraga, population about 2,000, had two offerings: the Ojibway Indian Casino, Hotel and Restaurant  or the Lakeside Inn (ah, another Lakeside lodging…I sense a theme here). I checked out the Casino just to get an idea of what it was and wasn't surprised to see a full parking lot in front of a decidedly unglamorous casino (a warehouse comes to mind) and a three-story pedestrian hotel with a restaurant somewhere on the site.
Lakeside Inn here I come. It was good choice–relatively new place that was formerly a Best Western. Got a large, very clean room with expansive views of Lake Superior for a remarkably reasonable rate. With a restaurant inside, also with nice views, I was all set. I finally got settled in, wolfed down a good meal of fish 'n' chips accompanied by a forbidden Corona and planned my route for Friday. After three days exploring Michigan, it was time to move on to Wisconsin and Minnesota!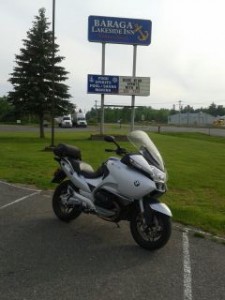 Update: Friday morning, June 12-FOG, FOG, FOG.  Lake completely obscured. Won't be able to travel safely until burns off.